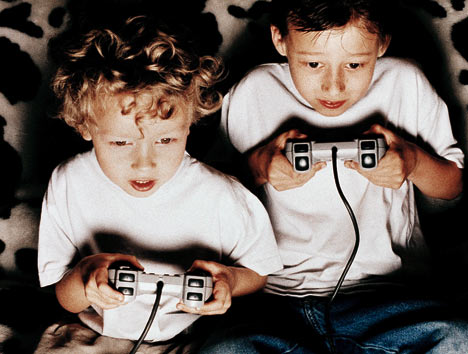 After all the fuss with Tanya Byron and Grand Theft Childhood recently I thought it might be an idea to write what I think about violence in games. Firstly it is very obvious that society doesn't have any problem here. These games have been played for decades now, they are played by hundreds of millions of people and there are no social problems. None. If there were, then the sensationalist newspapers would be throwing it in our faces. So the debate is mainly self publicist politicians and journalists using video games as a punchbag so as to further their own self interests. Gordon Brown and Hillary Clinton have said some very stupid things on the subject.
It is the job of parents to bring up their children, it is not the job of government. Unfortunately anyone can have a child any time they want, if they are physically capable. There is no intelligence test, no aptitude test and no means test. So all sorts of unsuitable people become parents. And governments use this as an excuse to force stupid legislation on the rest of us. We have nanny states that poke their noses into areas where they have no business and where things would work a lot better without them.
When it comes to games the current age limits are self evidently stupid. Children develop emotionally at different speeds, they don't magically take a jump in maturity on a given birthday. And they each have different attitudes and sensitivities. So it is fortunate that children are self censoring. They avoid that which they don't like. Kids just aren't interested in all the sexual material that surrounds us all in our daily lives. And when they do get old enough to be interested it is entirely natural. The same with violence. Below a certain development level kids just aren't interested and walk away.
One things that the anti violent game lobby forget is that video gaming is mainly an adult hobby, this is a fact. Also they have this strange perception that all the nation's children are cooped up in their bedrooms playing solitary video games. When in reality virtually every game these days is fundementally social in it's game play and has the additional social benefit of being a conversation focus amongst peers. Games are far more social than books, film or music.
People try and compare violence in films and in games. They try and make out that games are worse because of their interactivity. This is very stupid. I have read pschologists who say that in reality films are worse because you are passive and can do nothing about events. You are subjugated by the violence. Whereas in games you are active and can sort out the baddies, which is psychologically a lot healthier. Then there is the fact that films are hugely more realistic allowing greater audience immersion and suspension of disbelief. Finally the actual violence content in films is horrendous compared to games. James Bond is subject to testicle bashing torture in the 12 rated Casino Royale and there are very many 18 rated films that are pure evil from beginning to end. The violence in games is far, far tamer. It tends to be stylised. And, in virtually all instances, it forms just one part of a coherent and balanced whole.
Another aspect of this whole debate is that it is demeaning of children. Children are sentient, intelligent human beings. They know that when they are playing a game they are playing a game. They know it is not real life. In the 1950s legislators in America made a lot of noise about superhero comic books. They thought that chidren would think that they could fly and so throw themselves off tall buildings. We know now that this is absurd. So too are most of the concerns about violence in games.
In fact there is a way in which violent video games are good for children. Very good. Quite simply they act as a catharsis, as a means to vent pent up anger and frustration. Children can interactively get all the negativity out of their system without hurting anyone or anything in the real world. I think that this is a very significant effect and has contributed to the huge drop in juvenile crime that we have seen in every country where video games are widely played.
It is useful to remember that age ratings are a relatively recent artifice. They were invented by the film industry when they found themselves under the same sort of scrutiny that the game industry is now under. Books are entirely comparable with films and video games as popular entertainment media. Yet books have no age rating despite frequent sex and violence. Just look at the Bible and the Iliad for instance.
So what is worse, a Mickey Mouse Tom and Jerry cartoon on television or Grand Theft Auto on a video game console? For me it has to be Mickey Mouse Tom and Jerry. As discussed earlier the viewer is passive and is subject to unremitting violence with no morality message whatsoever. Whereas Grand Theft Auto is an interactive game of near infinite possibilities of which violence forms but a small and integral part.