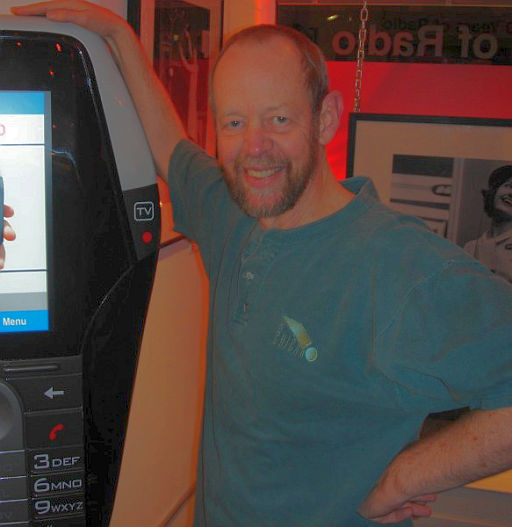 In the early hours of this morning Guy Kewney died, from cancer, at his home in London. I have written about Guy before, as a journalist he was the colossus who oversaw the birth of home computing in Britain. Everything that happened here: Sinclair, Amstrad, Eidos, Rare, ARM, and so much more, only happened because of the foundations laid by Guy.
In the mid to late '70s at the weekly specialist newspaper, Computing, Guy wrote regular articles about the birth of microcomputers. These inspiring missives told us of an imminent and portentous revolution that would transform everything we did. Many people's lives were changed by reading these. I was inspired to leave the safe world of accountancy to open one of the first computer stores, Microdigital, in 1978. Many other made similar life changing decisions because of Guy!
As the industry Guy had predicted emerged his influence also increased, initially at Personal Computer World, the first dedicated home computer magazine, then at senior positions in several of the top journals and with a lot of television work. The effect he had was vast and covered a period of over 30 years. He was considered the pre eminent journalist in his field and it is impossible to overstate his influence.
But Guy didn't just write and broadcast, he did it well. He was clever with an incisive mind, he asked the difficult questions and he analysed the facts in a way that brought so much added value to his output. And of course his experience gave him an unmatched platform with which to work, such as when he predicted greatness when Google first saw the light of day.
And of course there was Guy the person. Always clever, supportive, interesting. I met him at shows and conferences, we had meals and drinks together, he invited me to his home to meet his family. And we chatted on the phone to gossip. Talking to him was always fascinating and educational, he knew far, far more than went into his articles.
To get a better measure of Guy than I could possibly explain you might like to read this blog put together over the last month or so by his friends and colleagues. (Read the comments.)
Also Guy kept a journal of his terminal illness, throughout it you get a real feel for the spirit and the dignity of the man.
It is just so sad that such a vibrant person who was so pivotal to so much is no longer with us. He will be missed.