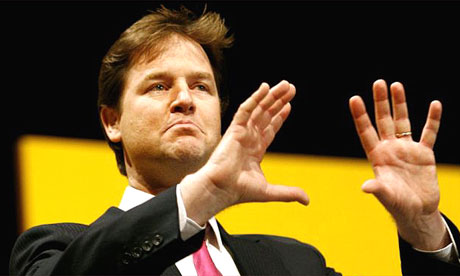 You can do the same:
info@nickclegg.com,

leader@libdems.org.uk,

libdemleader@parliament.uk,

nickclegg@sheffieldhallam.org.uk,

cleggn@parliament.uk
Hi Nick,
You asked for input on laws that need removing. This is one of the prime ones.
The English libel law is the most repressive and stupid in the world and it affects everyone every day.
Now is a good time to act. All three main parties have recognised the current stupidity.
Our libel laws were designed to protect the landed gentry from the tittle tattle of their servants, as such they are incredibly difficult and expensive to defend. Nowadays they are mainly used by the nefarious to keep themselves and their activities out of the public eye. For every case that reaches court there are thousands of bullying, threatening letters sent out by London libel solicitors. The recipients of these letter usually have no option but to self censure, no matter how right they are, they simply cannot afford to defend their position.
How this affects everyone.
1) The internet does not tell you the truth. Large chunks are censored and thus removed by the solicitors. Often they just write and threaten the hosting company, so stuff is removed without the author's say so. The people who hide behind this are the people with the most to hide. People that you really should be allowed to know about. This censorship is for the whole world, the English libel lawyers are taking away the fundamental human rights of everyone on earth.
2) Science is now fought out using libel law. If a person or group of people can make a lot of money hiding behind what they say is science then they often act against anyone who criticises that science. Homeopathy and Chiropractors are just two examples of this.
3) You cannot say anything critical of any policeman, no matter how bent or corrupt they are. Even if they just do their job badly you are not allowed to say so. The Police Federation act against every single criticism of a policeman. They send out lots of letters and are very happy to go to court. Several times they have lost over a million pounds in these actions, but still they do it. So every editor in the country is frightened of publishing the truth. The result of this is that bad policemen are protected, the public have no insight into what is really going on. So we end up with far worse policing.
Here are some useful changes that could be made:
1) Currently if you are accused of libel you are guilty till you prove yourself innocent. This is against natural justice and is onerous and expensive to defend. This should be changed to the accuser having to prove that they were libelled.
2) We need a free speech act, like most other countries have, that enshrines our rights to free speech.
3) Companies or other organisations should not be allowed to claim for libel or finance anyone claiming for libel. Only individuals should be allowed to claim and the no win no fee system will fund valid claims.
4) The initial forum for hearing libel complaints should be low cost tribunals. It is ridiculous using the immense cost of the High Court because somebody objects to what someone else has said.
5) The test for jurisdiction of the English legal system as a suitable venue for an action should be much stricter. Currently we are the libel tourism destination of choice which makes us the laughing stock of the world.
All our rights and freedoms are based on free speech. And we don't have free speech because of repressive libel laws that are abused on a massive scale.
regards,
Bruce Everiss