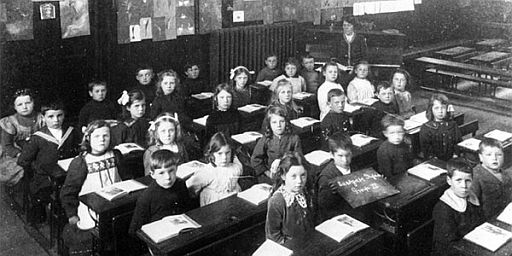 "Oh no" I can hear you say, an article about education. Boring. Yet it should be one of the most exciting things you can read about. It is the education industry and their heritage that have made it boring. And if it is boring for us then just imagine how boring it must be for the victims of our current system. Let's face it, standing a teacher in front of a class must be one of the most inefficient methods of imparting knowledge ever invented.
We are massive consumers of education. We start in formal education as toddlers and emerge in our 20s. Often none the wiser. And we learn far more out of school than we do in school. Then we have vocational training, usually continuously in our fast changing world. Plus our hobbies and interests that can often involve absorbing more knowledge than a degree course. Which all means that education is a massive industry. Far bigger than the recreational game industry is going to be for the foreseeable future. Which is very nice for us because gaming is perfectly suited to education. Far more so than the current classroom/teacher system. Our one on one, challenge-reward mechanism is the most perfect way yet of imparting knowledge.
I have watched our industry try to get into education for thirty years. And failing, continually. Because we try to do learning using games. We try and fit in with the old, inefficient teacher led systems. But we have had successes when we don't try to fit in. Dr Kawashima's Brain Training, for instance. And these successes come when there isn't a teacher in sight, because they are true game based learning. And teachers and true game based education are incompatible. You cannot have them both at the same time.
Teachers, at best, think that games are chocolate coated broccoli. A way of dressing up knowledge to make it palatable. They are wrong. Gaming is the optimum delivery system for giving the human mind knowledge. Because it is one on one interactive, because it creates exactly the right challenges at exactly the right time, because it can readily mix text with sound with pictures with videos, because it rewards the student properly at exactly the right time, because it is connected to the sum of all human knowledge, because it is non linear thus presenting knowledge in a more natural way, because it progresses the student at exactly the right pace and because it is connected to countless other people.
With proper game based learning it is very simple to keep a track of every student's progress. But more than that it is very easy to see their strengths and weaknesses in all their complexity. The aptitudes of every single student will be plain to see. Which would lead to everyone having the optimum further education and making the right career choices for their abilities. Which would be a massive improvement on the current hit and miss methodology. So students wouldn't just learn more, with better understanding and more quickly. They would also be learning the right things for them and for their life ahead.
It isn't just goodbye to classrooms and teachers. It is also goodbye to exams and school inspectors. Because any student's knowledge and capabilities would be there to see in real time on the system. In fact exams are a very bad thing as they hold the majority of students back until everyone has mastered the syllabus to a given point. With game based learning you are going to have a lot of people educated past degree level by the time they are 18.
But the people who stand to gain most are those with "learning difficulties" who just cannot get all the attention they need with current learning methods. With game based learning they will have one on one learning that will push their aptitudes and capabilities to the limit resulting in much more fulfilling lives.
So what are we going to do with all the teachers? Teach them to stack shelves in Tescos? Nope, there is something far more important for them to do and that is to prepare children for their futures in the real world. Not by teaching, but by mentoring. By guiding every single student, one on one, so each one can get the best out of our society and our society can get the best out of each student.
Some educationalists who have a grasp of this seem to think that you still need a physical school. That each student has their own workstation. They call it "podularisation". And they are wrong. All a student needs is a device connected to the interweb. A home computer, a netbook or even a smartphone. Yes, that's right, smartphones replacing teachers. And OnLive technology, or something similar, could be harnessed beautifully to deliver it all.
The next thing that is going to shock is that much education will end up being free. Once it is all written and on a server the incremental cost for each extra student is zero. And as we have seen with so many things on the interweb there is an inevitable constant downwards price pressure till zero is reached. This will open up and democratise learning like never before. It will be more influential than the invention of the printing press. Anyone, anywhere in the world will be able to consume whatever education they want any time they want, delivered to them in the optimum manner for them to absorb. This will massively advance the whole of humanity.
I would like to thank Nolan Bushnell and all the other speakers at the Game Based Learning 2009 conference for stimulating my thoughts on this subject.