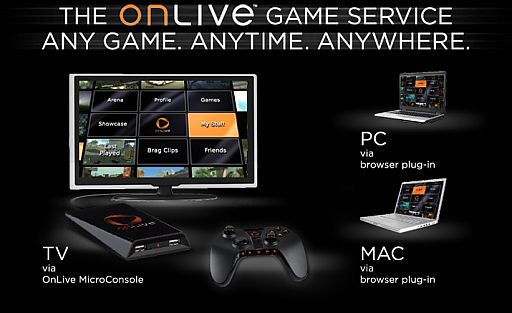 After seven years in development OnLive "the most powerful gaming system in the world" has been launched at GDC in San Francisco and threatens to make existing home consoles obsolete. Nine games publishers have signed up including Ubisoft, Electronic Arts, THQ and Atari Interactive.
OnLive is the server based thin client model that I have mentioned so many times on here. This is what I thought Steam and Xbox Live would evolve into, and now they have been leapfrogged. When this takes off high street game retail will be dead. Initially it runs on PC (including all those millions of netbooks pouring out of the factories) and Mac with a cheap and simple OnLive MicroConsole available if you want to use your Television instead. Eventually, as I have said before, the electronics will be built into TVs. It would only cost a few cents. The potential here is so enormous and the capabilities so vast that it could put everything we have done till now into the shade.
There is the potential here for a community of Facebook proportions because thousands of players will be in the same server at the same time. For the same reasons a game can be released to a global audience instantly and all updates and expansions will be distributed equally instantly. So you are always playing the latest games and the latest versions of games.
Another nice thing is that this could be made to work on smartphones. So you would have a seamless gaming experience. PC, television and mobile phone. Gaming of the highest order would be there on demand anytime anywhere complete with a big and active community. This is exactly what I was expecting technology and enterprise to deliver.
And it is goodbye to piracy. All those people who steal games instead of paying for them will have to go and steal something else instead. Motor cars maybe. Which means that all the people who put their work and lives into creating games will be rewarded properly for their labours. And which makes the whole industry a far more sensible place to invest.
Of course the genie is out of the bottle now. This vision has been taken on board by a vast public. So if OnLive doesn't succeed then someone else will. And Nintendo, Sony, Microsoft and Steam are all going to have to radically change their business models and their technology if they are not to be left behind.
In this industry we always live in interesting times!