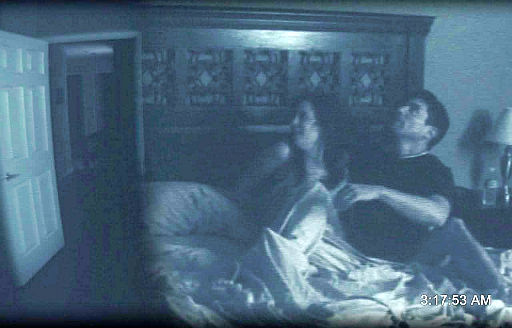 I have written on here about some of the totally execrable, violent films that are out there in the cinemas, available for the public to see. Antichrist and Waz have far, far worse content than any video game. And remember that film violence is far more traumatic because it is imposed on you, at least in games you can take action in response.
Paranormal Activity is one of the most profitable movies ever. It cost just $15,000 to make and has grossed over $100 million. And it is massively disturbing. Specialist horror movie website Bloody Disgusting said the following: "Paranormal Activity is one of the scariest movies of all-time. YOU WILL BE AFFECTED as it's hard to ignore the imprint it leaves on your psyche. You know it's fake, and yet, you can't shake it. Nightmares are guaranteed."
Now it is being shown in Italy and this is what the Daily Telegraph reports: "Emergency services received dozens of on calls on Saturday from cinema-goers having prolonged panic attacks after watching the film. The most severe case was that of a 14-year-old girl who was brought into hospital "in a state of paralysis", an emergency services spokesman said."
So what I want to know is where is Keith Vaz when you want him? How he can have the temerity to criticise a video game yet is not denouncing this film to Parliament is totally beyond me.