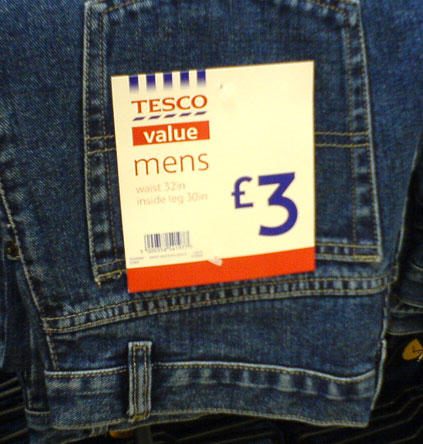 I must admit that this is one of the more unbelievable MCV headlines. Tescos, for instance, have been involved in price wars for decades and we can all see the harm it has done them!
What has happened here is that games have recently switched from being a specialist item at retail to being a commodity. And as a commodity the only thing that matters at retail is price. Obviously some industry management, rooted in the past, have not adapted to this change.
Supermarkets offer an immense advantage over specialists shops at retail. Which is why specialist shops in so many product areas have disappeared. At a supermarket the customer can just pick up a game on their weekly shop and throw it in their trolley. Often this will be an impulse purchase. Contrast this with having to make a special visit to a specialist retailer, which massively reduces the potential for impulse purchases and you can see the huge sales advantage to the games industry of being in supermarkets.
Supermarkets have always competed on price as their main marketing tool to drive traffic. Customers are not going to visit several supermarkets in a week, so once a customer is through the door you have their money. This is why loss leaders are so tempting. The customer comes to the store specifically for the one very low priced item, on which the supermarket is happy to make a loss. This is because the customer will buy a lot more stuff on the visit that is profitable enough to more than cancel the effect of the loss leader.
And video games are a perfect loss leader. They are a commodity, so are identical wherever they are bought. They are a sexy, high profile product. And most households now buy them.
The game industry benefits when games are used as loss leaders in several ways
Simple price elasticity of demand. If a commodity is cheaper it sells more. This is a proven economic reality.
The supermarkets need to market their loss leaders. This creates huge extra exposure for the games involved.
People love something that appears to be a bargain, so the level of impulse purchases of games will rise massively.
So the industry should be celebrating our new status as loss leader of choice amongst the retail giants. But instead there is a lot of whingeing going on that I don't understand. Alan Prichard, the UK MD of Sega said "Development costs are not getting cheaper so it is important for retailers to sustain full SRP points". This is self evidently ridiculous. The price Sega sell to the supermarkets at is the same, whatever the supermarkets then choose to retail at. So how does discounting at retail have any negative effect on funding development? Surely the reverse is true, more games will be sold and Sega will have smaller losses.
Rod Cousens, CEO of Codemasters, said "Price cuts in an industry which shines above the gloom can only be the strategy of those concerned that their mode of delivery to the consumer is facing threats, and they are doing their best to accelerate their own demise." This again is patently absurd. Yes, digital distribution is taking over from retail, but it has little to do with retail price point. In fact discounting and price wars at retail will prolong their relevance. The exact opposite of what Rod has said.
What we have here is a situation where most people win from this discounting. The retailer wins because they get more traffic. The game publisher wins because they sell more games. The customer wins because they pay less for their games. The only loser is the specialist retailer who, inevitably, loses sales. But specialist retail was always going to go the way of the Dodo because of digital distribution. All supermarket discounting does is to speed up that demise.