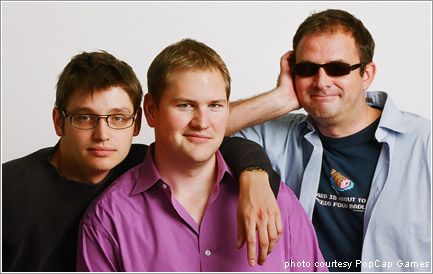 People look at the game publishing industry and see the giant global companies like Electronic Arts and think that it is impossible to compete. In fact it is very easy. There are three elements of the gaming industry that make it easy. The first is that you can distribute globally with no physical product, just look at Runescape, Maple Story and Habbo to see how big that can be. Secondly games can be all things to all people so you can develop for a niche in which there is little competition. Thirdly the industry is in constant flux and change which brings up endless new opportunities. Just look at how long we have had the Apple AppStore.
As proof of what can be done let's look at three Seattle guys who started a game company with no money. So in 2000Â they ran up $30, 000 of debt on their credit cards to finance the start up of their company. By 2006 they had a turnover of $80 million and in 2007 $110 million. PopCap have done what anyone could have done, the difference is that they did and we didn't.
Their games are very simple and highly addictive. They beta tested using their mothers so as to get the games right for their intended demographic. They are played on online PCs, iPods, XBLA, mobile phones and all the other emerging casual gaming platforms. And they largely use the play for free business model with payment for advanced features or levels. So they are at the sharp end of where gaming is going.
And of course they are successful. They are the number one publisher on both iPod and XBLA. One of their games, Bejewelled, has sold 25 million units and Peggle is on the PC Gamer Magazine list of The 100 Greatest Video Games of All Time.
Their marketing is clever in that they push the benefits of gaming and specifically their sort of gaming. So they say that if employees played games on their work breaks it would help British business to the tune of £4 billion a year. And they say how their games help older women relax, learn, bond with their kids and more. All stuff that makes good press and gives consumers features and benefits they can relate to.
So to anyone who wants to be in gaming I can ask these two questions. 1) Are you an XNA or XLA developer? and 2) Have you downloaded the iPod/iPhone SDK? Because these would be the actions of someone who wanted to get ahead in the industry. Whilst just talking about it will get you nowhere.
And if anyone in the British Midlands wants to set up a gaming company then drop me a line. Maybe we too can be a PopCap.