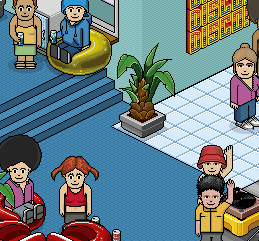 I suspect that many reading this will not know of Habbo, and why should they? It is something for teenagers, you can't buy it in the shops and the only people making money out of it are Sulake, the Finnish developers. Yet it has 80 million members, 400 million page impressions a month and 75,000 people join every day.
Best of all it has an array of features that will be seen more and more widely in the coming years. See Habbo and you see our future. Here's why:
Nothing to buy. Yep, that is right. You can be playing Habbo in a handful of minutes, starting now. It is that easy. There are the lowest possible barriers to entry. Everything is designed to make it as easy as possible to get in.
Rock solid revenue model. You can use Habbo without paying a penny. However there are strong incentives to buy credits which can be used in many ways. And of course there is advertising revenue.
What is it? Is it an MMO or is it a social networking site? It is both, and it works fantastically. You can be chatting to someone and then suggest going and playing a game. Just like real life. I have said many times that MMOs will have more social networking and social networking sites more gaming. Habbo is in that sweet spot where it is already both.
Non-hardcore audience. Why limit themselves? Habbo is as much fun as possible for as many people as possible. It is entertainment for everyone (well, teens anyhow).
User generated content. As a member you create your guest room and can build and modify it endlessly.
Global audience. Habbo has servers in over 30 countries and is continually adding new ones.
It doesn't need a $3,000 PC to play on. In fact it will play on just about any old PC.
Simple graphics. It is always the gameplay that matters most. Just because you can go photorealistic doesn't mean that you have to.
Some or all of these elements will feature in more and more games. Habbo itself is just crying out for a more grown up version (not Second Life!), which would be brilliant on say an iPod Touch or iPhone.
The possibilities out there are endless, there are many hundreds of millions of gaming platforms in the world just waiting for the fruits of our imagination.
What do you think of Habbo? And the elements listed above. Please add your comments below.