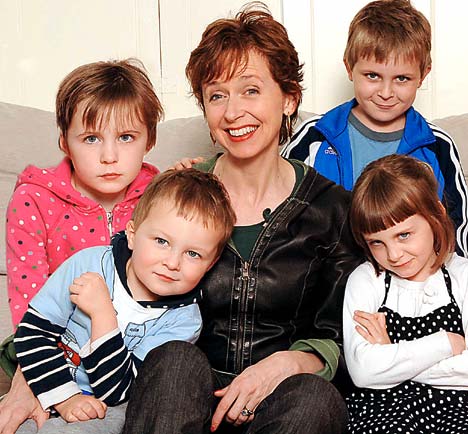 We had this when the Byron report came out. Anne Diamond wrote a very silly piece in The Mail complete with badly photoshopped picture and had ridicule poured on her from all sides.
Now another woman, this time called Rosie Millard, has written an article in The Daily Mail that she bought her four children a really great toy. But they had to share it between them. And when this led to trouble she was surprised. She is obviously too busy writing articles to even vaguely understand how children work. The fact that the toy was a Nintendo DS has nothing to do with this. It is expecting four children to share what must be one of the best toys ever.
If she had wanted them to share she should have bought them a Wii.
Now to the serious bit. Rosie bought the DS from Hong Kong for £150 including "a 'bundle' of 20 games including Brain Trainer, Fifa 08, and Nintendogs."  At this price one has to think that these are pirated. Which would make Rosie a thief. Which she has now pretty much owned up to on the pages of a national newspaper. Silly, like I keep saying.
And depriving her children of video games is not good for them. There is a huge amount of research that games benefit children in many ways. So by depriving hers, Rosie is losing these benefits.
It is a bit sad that The Daily Mail continue to repeatedly pay people to write about video games who haven't the faintest idea what they are writing about. Because the majority of the population now do understand video games. So The Mail is increasingly distancing itself from it's readership. Which isn't too clever.
Meanwhile, in The Observer, Catherine Bennett proves that some newspapers know what is happening in the world and have credible journalists to report it. In an excellent, well thought out and informed article she says: "there appears to be no evidence to support the Clinton/Obama/Vaz line on game-enhanced violence or underachievement. On the contrary, this moral panic appears to owe much to myths about high-school killers, while plenty of research suggests, as a Commons select committee has just heard, that gaming can improve children's 'confidence, their sense of social standing, their ability to multitask, their ability to receive conflicting bits of information'." Rosie Millard would do well to read this article, she could learn a lot.
I know I keep on about this subject, but when national newspapers like The Daily Mail are wantonly misleading their readers so badly it is an issue of public concern.