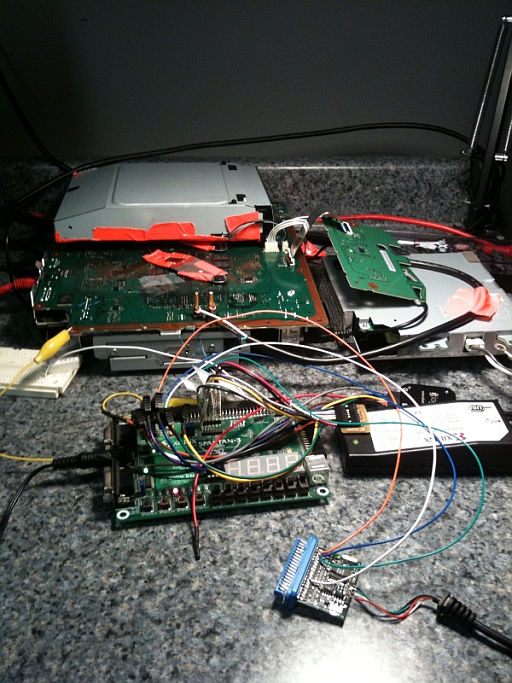 George Hotz is a very well known American hacker, famous for being the first to break the security of the iPhone. Now he has told the BBC that he has cracked the Sony Playstation PS3 and that he will post the details of how to do this on the interweb. You can read about his progress on his blog.
There are lots of ifs here. If what he says is true, if he releases details out into the wild, if it can be easily replicated by others, if it is used for widespread game stealing and if Sony don't come up with an effective counter. If all these ifs line up then Sony are in enormous trouble. The PS3 is just over three years into what should be a ten year life. So the loss in sales revenue from games will add up many hundreds of millions of dollars. A billion dollar reduction in revenue is not impossible. Not news that any company wants to hear.
The main protection on Sony consoles has come from the media. Playstation 1 used CD-Rom, Playstation 2 used DVD and Playstation 3 uses Bluray. Each of these media standards was very new when the consoles were launched so blank media and burners were very very expensive. Over the life of a console the blank media costs tumble, burners become cheaply and readily available and the thieves get up the learning curve of how to crack the machines.
I was at Codemasters when Playstation 1 game theft reached critical mass. We very suddenly went from being able to make a good living from PS1 games to making a loss on every one. There wasn't platform proliferation then, the PS1 was the main show in town. So it hit us very badly. The thieving caused 20% of the workforce to lose their jobs. I was there through all the trauma that this involved. Fortunately the company survived, largely because of a PC game called Operation Flashpoint that went to number one in every country with a chart. But time were bleak until the Playstation 2 got up to a big enough user base to provide us with a regular living once again.
Things would not be so bad for publishers these days if the Playstation 3 really is cracked. Now there are lots of platforms and lots of business models. The industry just moves resources away from platforms that are badly effected by stealing to ones that are less affected. So the thieves shoot themselves in the foot as much less money is spent developing games for their machine.
Of course the Microsoft Xbox 360 and the Nintendo Wii are also cracked. With the 360 Microsoft have the simple solution of kicking modified machines off their Live service. This is a very effective deterrent as Live is one of the main reasons for owning a 360. The Wii being cracked is less of a problem because of the casual nature of their user demographic who are less likely to be bothered with trying to steal. And Nintendo make latest release games look for known platform modifications and then refuse to play if the machine is not kosher.
Of course Sony also can and will come up with a strategy to counter cracked machines. But obviously the degree of success they achieve has yet to be seen.
Once again we are seeing that the public cannot be trusted with physical ownership of games. If they can steal without getting caught then there are tens of millions of people who are happy to do so. They have no morals. Gaming is going to move increasingly into the cloud. MMOs and most casual gaming are already there. What are now console games will increasingly follow.