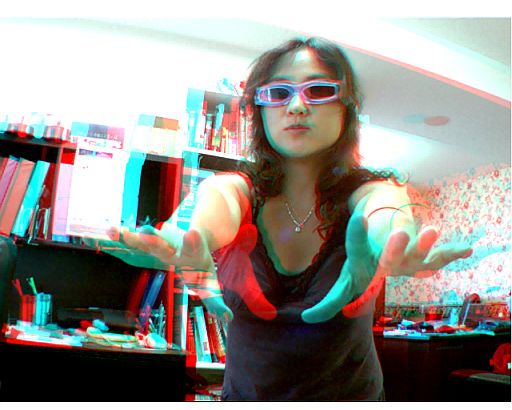 I first wrote about stereoscopic 3D in video games last May after seeing a Blitz game technology demonstrator and realising that it brought something new and good to the gaming experience. Since then I have written about it sporadically, most notably after seeing Avatar. So now I am convinced that it is a part of our future and that it usefully aids immersion and thus emotional engagement with a game.
And I am not the only one to think this. Las Vegas from January 7 to 10 saw the 2010 Consumer Electronic Show (CES) and it was one massive 3Dfest with all the world's major consumer electronics manufacturers lining up to shout about where they are going with 3D and what products they will be offering to the consumers. This is the step change of the title.
I have said many times that the current LCD televisions are just an interim technology. They aren't very good in most ways. This makes the TV manufacturers very happy indeed because soon tens of millions of consumers will be forced to throw their TVs away. Yet again. Apple are the masters of planned obsolescence with the iPod, it looks like the rest of the consumer electronic industry has been taking lessons. OLED and 3D will be the must have features for all the world's living rooms just as soon as the factories can crank them out.
And remember that the futurologists are predicting that we are heading for a world where there are several televisions per person. You can see why, we become steadily wealthier and the cost of a television becomes less and less of a significant factor in buying one. This will become more marked with the ultimately cheap to make OLED technology. At the same time what a television does functionally in our lives has been increasing steadily. Originally they just showed real time broadcast material, now they are the key component of the entertainment hub, connected to all manner of other electronics and having considerable processing power of their own. I cannot see all screens going to 3D, but it will be essential for the main static viewing televisions.
Then there is content. This year the Western movie industry will produce about 170 feature films. Of these at least 20 are planned to be available in 3D. Partly this is the Avatar effect, partly it is the technology and customer awareness reaching critical mass. Soon nearly all movies will be filmed in 3D. Then there is broadcast television content, this is already happening, with sport being the obvious initial beneficiary. Watching soccer, darts, snooker, cricket etc with a stereoscopic 3D perspective will make 2D history very quickly. Which brings us to video games. From what I have seen the enhancement 3D brings is remarkable. Every developer and publisher should already have their 3D strategy mapped out.
Perhaps the biggest industry mover for 3D is Sony. It is almost as if they have bet the future of the company on it. Howard Stringer says: "We intend to take the lead in 3D. We are the only company fully immersed in every part of the 3D value chain". This means their Bravia televisions, their Blu-ray players, their movie studios, their video cameras. And their game consoles. Sony have a strong and powerful strategy in place for the Playstation PS3 as a 3D gaming device. If they are quick and decisive they can at long last give themselves a competitive advantage over the Xbox 360.
Of course, like any electronic innovation, we need standards. It will be no good if every hardware manufacturer and every publisher implements 3D in a different way. The standards for gaming 3D are organised by Khronos and I suggest that everyone involved in the game industry takes a regular look at their website. Here is what they have to say about themselves: "The Khronos Group is a member-funded consortium focused on the creation of royalty-free open standards for parallel computing, graphics and dynamic media on a wide variety of platforms and devices. All Khronos members are able to contribute to the development of Khronos API specifications, are empowered to vote at various stages before public deployment, and are able to accelerate the delivery of their cutting-edge 3D platforms and applications through early access to specification drafts and conformance tests."
From a gaming perspective it is important to keep an eye on the fantastic NVIDIA 3D technology and to keep in mind that Microsoft Natal is a 3D input device that would integrate fantastically with a stereoscopic 3D display.
Overall 3D is going to be of massive benefit to the gaming industry. Not only will our content be more immersive, suspending disbelief yet further, we will also have a flowering of creativity. And it will be a massive boost to the market as hundreds of millions of consumers seek out new experiences. We will rise the the challenges this presents, it is another big step in the development and growth of gaming as the premier entertainment media.