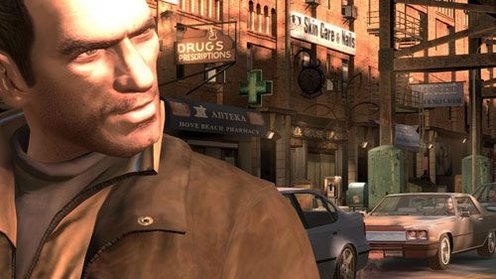 The Telegraph headline is Grand Theft Auto IV: Violence flares after launch and they know the cause:"A 23-year-old was repeatedly stabbed in Croydon, south London as he walked past 100 people queuing to buy the controversial game, in which players rob and murder their way through the criminal underworld."
The Mail, as ever, don't pull their punches with Teenager stabbed in queue at midnight launch of ultra violent video game Grand Theft Auto IV. They too know what happened: "A man was stabbed last night while queueing to buy one of the first copies of a controversial new video game."
The BBC report the stabbing but make no mention of any game.
The Press association, which many journalists will use as their source, headline with Police hunt video game attacker and say " Police are hunting a hooded man who stabbed a passer-by as he waited to buy a new edition of a notoriously violent computer game."
So you can see already that they have different stories. Was the victim in the queue or walking past? Perhaps the local paper can clear this up for us.
So to the Croydon Guardian who have the best headline yet: Grand Theft slaughter. And they have a new slant on the victim "Queues of people waiting outside Gamestation in George Street saw the man staggering around covered in blood as they waited to get their hands on the latest copy of the game."
But what is this we see at the bottom of the Croydon Guardian article, in the reader comments? Scroll down and we find: "I'd just like to clarify, that the incident and the four "blokes" involved had no connections with the people who were in the queue for Grand Theft Auto 4, nor did they have any intentions of purchasing the game. It just happened in the same place.
I was in the queue and saw the events unfold, but once again it seems instead of looking at the root of the problem it's much more convenient to blame the games that we play."
Yes that's right, the stabbing in Croydon had nothing to do with GTA IV. Yet over the news media all day today and tomorrow morning the population of Britain will be fed a totally false message. The media should be deeply ashamed of themselves when they mislead like this.