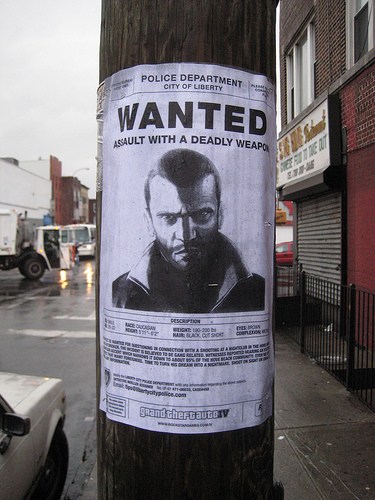 I have said before that real world old media is still often far faster and far more powerful for marketing than online. So it is nice to see City of Liberty Police Department wanted posters for Niko, Elizabeta, Mannie and other characters from GTA IV being put up all over North America, starting with New York. The only danger is that the posters will themselves be collectors items, so they won't stay up long.
The posters ask people to E-mail their tips to tips@libertycitypolice.com and they'll get an interesting image in return. This will create a nice big opt in email marketing database.
And just to make sure they get the maximum marketing impact from this, Take Two / Rockstar have told the world's media about the campaign and so this story is getting them massive global publicity. By April 29th, with all the marketing activity, just about everyone will be pumped up to buy this game!!