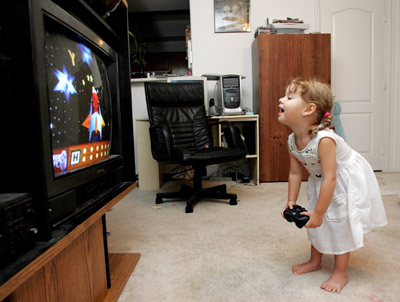 This is going to be very, very interesting. In  2004, Dr Lawrence Kutner and Dr Cheryl K. Olson (interview here), co-founders and directors of the Harvard Medical School Center for Mental Health and Media, began a $1.5 million study funded by the U.S. Department of Justice on the effects of video games on young teenagers. In contrast to previous research, they studied real children and families in real situations. And now they have written a book about their findings.
This book just talks about the same common sense attitude towards gaming that you have found on this forum. However it flies in the face of the hysteria that we keep hearing from a litany of ignorant self publicists.
Published by Simon & Shuster on April 15 this book will change our industry forever. Here are some of it's findings:
Video game popularity and real-world youth violence have been moving in opposite directions. Violent juvenile crime in the United States reached a peak in 1993 and has been declining ever since. School violence has also gone down. Between 1994 and 2001, arrests for murder, forcible rape, robbery and aggravated assaults fell 44 percent, resulting in the lowest juvenile arrest rate for violent crimes since 1983. Murder arrests, which reached a high of 3,800 in 1993, plummeted to 1400 by 2001.
Well that's one in the eye for Gordon Brown (who has said that video games cause knife crime) and all the other idiots who don't understand video games and so blame them for all the ills of the world.
The U. S. Secret Service intensely studied each of the 37 non-gang and non-drug-related school shootings and stabbings that were considered "targeted attacks" that took place nationally from 1974 through 2000. (Note how few premeditated school shootings there actually were during that 27-year time period, compared with the public perception of those shootings as relatively common events!) The incidents studied included the most notorious school shootings, such as Columbine, Santee and Paducah, in which the young perpetrators had been linked in the press to violent video games. The Secret Service found that that there was no accurate profile. Only 1 in 8 school shooters showed any interest in violent video games; only 1 in 4 liked violent movies.
That totally debunks "School Shooting Expert" and misinformed anti game campaigner Jack Thompson. Is he now going to apologise for misleading the American public?
Academic research on video games and kids has typically focused on games played in isolation. Yet for many young teens in our surveys and focus groups, friendship was a major factor in their video game play. Forty percent of middle-school boys and almost a third of girls agreed that one attraction of video games is that "my friends like to play." Roughly one-third of both boys and girls said that they enjoyed teaching others how to play video games. 
According to Bill, another parent, "Most of the interaction my son has with his buddies is about solving situations within a game. It's all about how do you go from this place to that place, or collect the certain things that you need, and combine them in ways that are going to help you to succeed."
Wendy saw a similar pattern with her son: "Jody and Alex talk constantly in the car and everywhere else about the games and the characters, so it's part of their friendship, part of what they do and what they like to play…. And they give each other help sometimes when they get to different levels."
Which disproves Prince Charles and all those who have portrayed gaming as an anti social solitary activity.
The book covers many other key issues such as sex in video games and the effect of games on children's development. And it comes down repeatedly against the ignorant doom mongering politicians and journalists who use the public stage to spout their ignorance. People like Hillary Clinton and Keith Vaz.
Also you would assume that the Tanya Byron review has now totally had the rug pulled from under it. If ELSPA have any sense they will buy a copy of this book for every member of the House of Commons and for every newspaper editor (especially the Daily Mail) in the country. There really is no more excuse for people getting on a soapbox and spouting idiocy about Video Games. Because now, for the first time, we have a credible, properly researched academic study that explains what the realities are.
Pre order this book from Amazon. I have. If you are an industry professional it is the most important book on gaming. It will change gaming forever because the industry will henceforth be far less nervous about tackling difficult issues within games which up to now would have attracted ignorant hysteria from the obvious suspects. Gaming content will change to be far closer to that of books and films. This change will enormously enhance the emotional engagement that is possible within a game to allow a wider range of genres. And will bring about games that appeal to an even wider audience. Ultimately this book will add billions to the annual revenue of the video game industry.