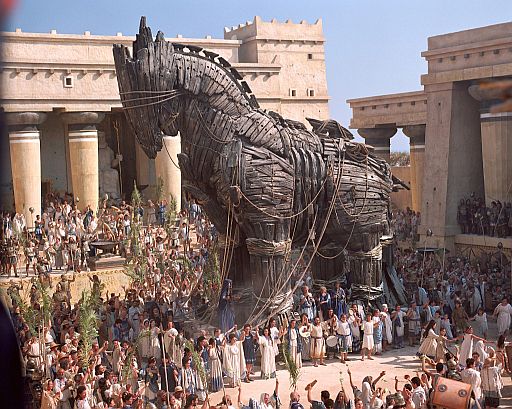 When you play a browser based game a number of things are happening. The game itself is running in a big remote computer, all your machine is doing is displaying the game and recording your inputs. It is being what is called a thin client. However in order to be a thin client for a game your computer needs to have in it the client software. So when you play a browser game like Runescape or Habbo the first thing that happens is that this client software is loaded into your machine. This is very trusting of you because anything could be included with that client software. Obviously legitimate western games like Runescape and Habbo can be trusted. But what about games from Chinese gold farmers like Evony and Empire Craft?
Malware is software that lives in your computer without your consent. Trojan horses are malware that gets into your computer by being part of something else, say the client software for a browser game. Malware can allow someone else to make use of your computer as part of a botnet, which are widely used for sending spam and other illegal activities where the real sender doesn't want to be traceable. Or it can be used to spy on everything in your computer and everything you do with your computer and so harvest things like credit card details.
Tens of millions of computers have malware in them without their users realising. Currently 376,000 malware bots are activated every day in the world for malicious use. This is huge. The people who create and use malware have a wide range of tactics for getting it into your computer and they are getting ever more sophisticated. Client software for a browser game would be the perfect mechanism for infecting millions of computers with malware.
With the above in mind it is very interesting to read the comment by jonnycake on the article More about Evony: "Now I am wondering if you have any insight into how much damage the game does to your browser, and your system in general. What I thought was very flaky software appears as though it may have malicious content. In Firefox, shortcuts have been re-targeted and attempting to fill in text fields gives mixed results."
There is this forum post from an Evony user: "Something happened this morning. Just when i logged in my account to play Evony, my Anti-Virus detected 4 trojans horse in explorer.exe. They came right when i entered my server. I am no expert about virus so I don<t know what happened there. Any help on the forum would be great as i do not want to join that server again until some admin tells me its clean. Took me 3 hours to clean my computer."
And another one: "Hello, i would like to inform ye that your site is infested with Adaware. http://www.pctools.com/mrc/infection…e.Mostofate.E/ Every time i log onto evony this comes as part of it. I have tried it several times, deleting it THEN just opening up evony and presto its back on my Computer. Its the "monitors the users browsing activity." that im not paticulary fond of !"
Now I am not saying that Evony has a trojan in its client software. This would take proper technical investigation. What I am saying is that the possibility of this being so is such that I would not let Evony anywhere near my computer. These people have already spammed the internet like crazy and stolen most of their game content, with behaviour like this I would not put anything past them.
More Evony articles:
Evony advert ridiculed by PopCap.