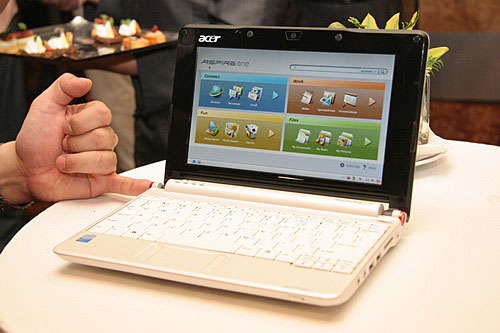 So I put my money where my mouth is and spent some of my own hard earned money buying a netbook. I put a lot of research into this, reading reviews, blogs, forums etc to work out which brand and which model best suited my needs. I chose the Acer Aspire One. In fact at the end of the day it looked like by far the best choice for me. So I bought it from Amazon at a good price and after a couple of working days it arrived, even at this busy time of year.
I had tried previously to use a notebook and bought myself a top end Dell. And it never got used. It is still gathering dust somewhere. It was just too big and unwieldy for the amount of utility it afforded me. The fact that I am writing this article on the Aspire means that it has already been used more than the Dell was. The size is absolutely perfect, any smaller and the keyboard would become a pain, any bigger and it would lose its fantastic portability.
When buying these things selecting Windows XP adds about £50 more to the price than using Linux. But for my needs XP is still the best operating system in the world, so I had to bite this bullet. And having specified XP it made sense to have a hard drive. So now I have this small 1Kg device that has similar power to my desktop machine and puts the sum of all human knowledge in my hand anywhere I go. Remarkable.
The Aspire came with minimum documentation, which is admirable. Looking for a wireless connection from my house it found a total of 8 of my neighbours' setups, compared with a desktop PC with an aerial on the back which could only find 3. The first thing I did was to remove Exploder and replace it with Firefox 3. Next I will have to remove McAfee, which is a pain of pop up madness, and replace it with AVG Free.
Now I can travel the world and run my online empire exactly as if I was at home, so long as I can find a hotspot. So the next move will be a 3G telephone dongle to use anywhere in the UK, especially on trains. These are free with a 12 to 15 month account which costs £10 to £15 per month for all the capacity you are going to need. In fact some companies are giving the netbook itself away for free when you take out an airtime contract, just like they do with mobile phones. All I still need is the for the Logitech wireless optical mouse, on order from Amazon, to be delivered and I will be in clover.