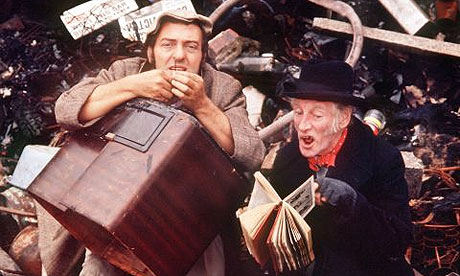 As an essential part of keeping in touch with the realities of the industry I frequently go and have a look round specialist video game stores. And there are always a number of significant trends to keep an eye on in this fast moving industry, such as the demise of PC and PSP games. However the biggest trend over the last couple of years has been the amount of space and emphasis given to secondhand games. They have gone from being just one small rack to being nearly half the store. And I bet they are making more profit for the store owners than the new games.
So what is happening here? Basically any business needs a USP and game stores once had this as they were the only place to buy games. Gradually this has eroded away, firstly with online retailers like Amazon and then with supermarkets, both of whom can beat the specialist on price.
Initially the specialists were cushioned from this price competition. Firstly because the specialist has a bigger range of stock, secondly because he has more knowledge and thirdly because of people's buying habits. But now video games have become a commodity and those advantages have evaporated. In fact the supermarkets and mail order companies have the better business model now because they can buy in bulk and thus cheaper, they have far lower overheads as a percentage of sales and they can and do use games as loss leaders to generate traffic. It has reached the point where an independent specialist game retailer can buy his stock more cheaply at the local supermarket than he can from his trade distributor.
So specialist retailers needed a new business model that gave them a USP. And secondhand is it. With secondhand they are in an area where online and supermarkets would have difficulty following because of the very large number of buying transactions the retailer has to make. Secondhand runs at a far higher price mark up, which is very nice when new games are selling on price alone and so have decreasing mark ups.
This is very nice for the consumer. When a game first comes out he can go and buy it cheaply at the supermarket or online for mail order delivery. Or he can wait a couple of weeks and buy it even cheaper from his local video game store.
Now, of course, there is the precedent that you can also buy books, CDs and DVDs secondhand. But the scale of this is relatively low and happens on eBay, in flea markets and in back street shops. With games secondhand is big business on the high street. And there is a reason for this. Quite simply games are a lot more expensive to buy than music albums, DVD films or books. This is because they cost more to make for the number of customers. So there is a vastly higher cost per customer in the game industry than in the other main entertainment media.
The big losers in this massive growth in the secondhand market are the video game publishers. A specialist retailer can now sell the same game several times and make a profit on it every time. The publisher, who took the risk and made a massive investment, only gets a profit on the first sale. So from a publisher's perspective secondhand games have exactly the same effect as piracy. Multiple customers get to play the game but in return the publisher only gets the profit back from one sale. And the customer who buys a secondhand game is making zero contribution to the cost of it being made.
Of course this in intellectually wrong as well as morally wrong. When you buy a game you are not buying the plastic and cardboard, you are buying the right to personally enjoy the IP embedded on it. But most customers don't see it that way.
But the publishers are going to have the last laugh here. High street game retailers may be making record profits now but they are inevitably doomed. The whole business is in mid transition from delivering content on cardboard and plastic to delivering it online. And online needs no retailers. And there is no secondhand online.