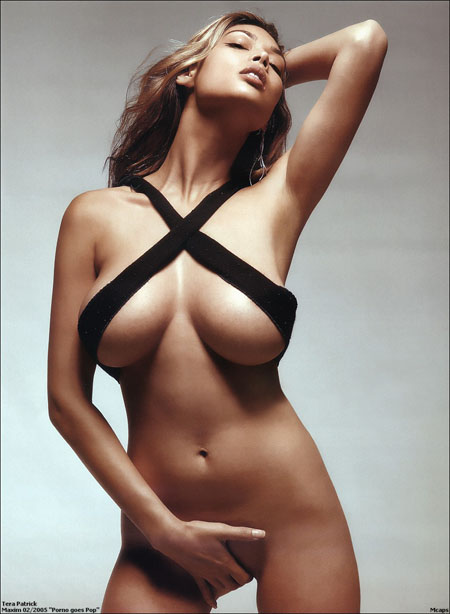 In case you have missed it, porn star Tera Patrick is a special producer on the game Saint's Row 2 (a GTA alike), developed by Volition and published by THQ. She will "bring her one-of-a-kind special touch to the project as the game nears release on October 14th" and "Further details on Tera's involvement with Saints Row 2 will be released leading up to the game's October 14th launch on the Xbox 360 and PlayStation 3."
Before you dismiss the girl for her profession it is worth looking at her Wikipedia entry: "Patrick was discovered in San Francisco by a talent scout for the Eileen Ford Modeling Agency, and at the age of 13 she was was the first teenage full time model. She moved to New York City shortly thereafter and her career as a runway and catalog model began. At 18, she left the world of modeling and enrolled at Boise State University where she earned an AAS degree in nursing and a BS in Microbiology. She then transferred to University of California, Santa Barbara, where for financial reasons she began modeling again."
She has her own production company, Teravision, is the the masthead publisher of Genesis magazine and in gaming was playable character in the video game Backyard Wrestling 2. She is also informed about gaming as you can see in this interview from 2004:
Do you think the sex appeal involved with females in gaming is having a positive or negative impact on the gaming industry as a whole?
Tera Patrick:Totally positive! I mean we live in a society full of double standards and hypocritical paradox. I don't understand why the ultra conservatives in America have a problem with a porn star being portrayed in a videogame. I mean, there is no nudity, and the game will be rated accordingly. I mean kids play games where senseless killing is ok (like Grand Theft Auto, or even BYW2), and no one questions people jumping off the roof and slamming someones face into an abandoned car, or shooting little old ladies! No one ever need kill anyone in real life, yet sex is something that everyone, except maybe Dick Cheney, will experience as a positive thing in their lifetime! People need to relax! I want to design and star in a real adult videogame! Let people get their sexual frustrations out!
Something I have written about before on here. And then there is this interview from May 2007: 
 What is your favorite video game to play and what do you enjoy about it?
I'm kind of torn–I really love the classics like Ms. Pac-Man, Centipede, and Asteroids. I have a Hello Kitty game for my GameCubeand I'll always love Kirby, Strawberry Shortcake, and anything with Mario in it for Nintendo DS.
Have you had a chance to play the Nintendo Wii?
Oddly, I haven't. That's probably the only console that doesn't reside in my home. It looks really fun though and I'll have to get one at some point.
You also have a PC video game, Virtual Tera, where a person has full control over your body, including the option to dress you up. Tell us about the game.
There are many different options. It would take me hours to explain it all, but it's absolutely a breakthrough in terms of adult video games. There's even an option to have your own face put on a character that's with me.
You are actually the only porn star to ever appear in GamePro magazine, in an Avirex advertisement. What does being the only porn star to ever appear in GamePro mean to you?
I am really proud to be the only porn star to ever be in GamePro. The gaming community is a perfect crossover for me. I once did an appearance at E3 and there was a line a mile long of people who wanted to meet me and get my autograph.
Do you think that adult video games are the next big thing?
The marriage between adult entertainment and gaming has been inevitable and now it's happening. The gaming industry is aching for more adult games.
If you were made into a video game heroine, would you be a Lara Croft-type character? What would your special move be?
I'd be a cute creature, similar to Sly Cooper and I would have to have a cool tag line. My special move would be a super sultry look that I would give my enemies which would make them faint. I wouldn't even break a sweat. I also had a lot of fun working on Backyard Wrestling 2, where I was a playable character. I was a kind of a ninja in that game and it was definitely cool to kick as as virtual Tera.
Have you ever… you know… to a video game?
Actually… once I did. One night Evan and I were going at it in the middle of an unpaused game of Tekken.
So you can see that she actually has credentials for the job. She is also a globally recognised media star with exactly the right profile for this game, giving it a big USP that will appeal to the target demographic of the game. It provides product differentiation in a crowded sector. The internet is buzzing with the news. And there are great opportunities for cross promotion between Tera's brand and the game's brand. Everything else being equal the game will now sell more.
I think that this is interesting and brave marketing. And I am sure it will work.