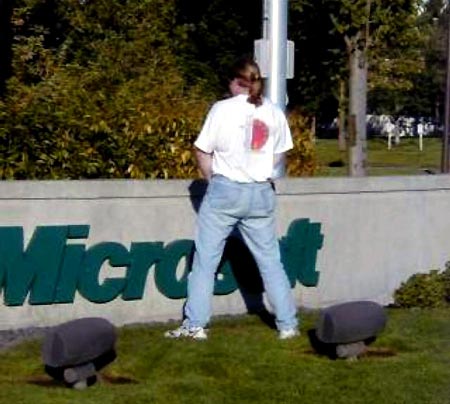 Firstly lets define what is meant by fanboy. What we are talking about is someone who has an irrational, emotional attachment to an inanimate piece of electronic equipment that makes them act in a manner that borders on the sociopathic and sometimes even crosses that border. Most gaming enthusiasts, even those who spend an inordinate amount of time and money gaming, are not fanboys. In fact fanboys probably spend a lot less time playing games than the true gaming enthusiast does. This is because, for a fanboy, the brand and the equipment are often far more important than the actual entertainment of playing games.
The vast majority of video game fanboys support the Sony brand. This makes them vehemently, sometimes aggressively anti Nintendo and anti Microsoft. This may sound pathetic to a normal balanced adult but it is true. Let's look at some of the reasons that people become fanboys.
Sony make sexy looking kit. Always have done, always will do. Lots of people will only buy Sony kit just because it looks so good. Nintendo kit is always just functional and the original Xbox was an ugly brick. Microsoft have learned their lesson with the 360 which is very nicely styled. It still isn't a Sony though.
The Sony brand dominated the market for a long time. To the point that in mass popular usage the word "Playstation" became synonymous with the word "console". In the real world Nintendos and Xboxes are often referred to as "Playstations". This is just like most people calling petroleum jelly "Vaseline" or vacuum cleaners "Hoovers".
Sony marketing baffles brains. With Playstation 2 they called the CPU the "Emotion Engine" and issued press releases on the wonderful and amazing things it would do for games. When the reality is that the Xbox was more powerful. Likewise they hyped up the Cell processor in the PS3 saying that the first PS3 down the production line would be the world's third most powerful computer (this is just from memory so may not be exact, however the claim was outrageous) when in fact there is little difference between the capabilities of the PS3 and Xbox 360. In fact so far the vast majority of games run better on the 360.
A lot of the great hardcore gaming franchises historically appeared first on Playstation. Mainly because for a long time there weren't many other options for a developer. Just now the 360 has the best gaming catalogue in this generation but the fanboys haven't woken up to this. They relive past glories and hope for future promises.
Gamers spend a huge amount of time playing games. Sometimes 30 hours or even more per week. So the console becomes the gamer's "partner" in his entertainment. It is his buddy in all the adventures that he has. So he becomes emotionally involved with his little friend. Even though it is mainly a moulded plastic box.
Gamers spend a very high proportion of their disposable spend on their hobby. This is a big commitment that means making other sacrifices. So for this spend gaming owes something back. Something more than just entertainment. Something bigger and more fulfilling. Something emotional.
Peer pressure, let's face it, everyone is a lemming in one way or another. Look at all the yuppies in their BMWs because they have to have the badge. So it is with a certain demographic that Sony targeted with their marketing. If you were in this demographic it became more than cool to own a Playstation. It became essential for your self esteem. Because your peers would look down on you if you couldn't walk the walk. And that meant you were left with little option but to buy one to gain the bragging rights and in turn put pressure on anyone in your peer group without a Playstation.
It is an unfortunate male characteristic that they like to form gangs and then bully people who aren't part of their gang. You see it in every schoolyard. And when men grow up they still do it but in other ways. At the football club, in the pub and at work. In fact anywhere the tribal genetics can break through the thin vaneer of civilisation. So it is with a Sony fanboy, he can get on the internet and join in harassing and bullying anyone and everyone who isn't a member of his gang. In fact many fanboys enjoy this online warfare so much that they have little time left to actually play games. It is all very Lord of the Flies.
Defending the honour of your family. To many fanboys the emotional invovement with their machine is such that it has become a member of the family in everything but name. So when something comes along that could be better in any way then it becomes a matter of honour. And the Wii and 360 are both better than the PS3 in some ways. So that means war. It is very obvious that if the competing consoles hadn't been so good then the Sony fanboys wouldn't have been so vehement and agressive. This is the biggest single factor in the current Sony fanboy phenomenon.
It is not just Sony Playstation that creates fanboys. Apple have the same effect (though to a lesser extent) with their computers and with their iPod/iPhone. And, quite interestingly, if you look at the reasons above many of them also apply to these Apple products.
Finally fanboys love articles like this. It makes them feel important and gives them a focus for their anger and resentment.