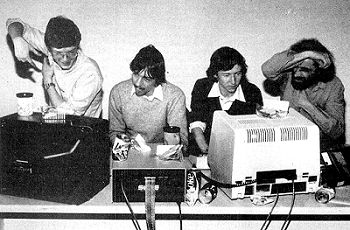 Browsing the internet I came across this interview of me in Your Spectrum from June 1984. It brings up several issues that were very pertinent at the time and which still have resonance today. They have never adequately been explained with the benefit of hindsight so I thought that I would do that now because things were not as they seemed. As a director of Imagine I was involved in all the discussions and decision making that went on behind the scenes. This is the definitive story of what happened.
Imagine software was an amazing success. We doubled turnover pretty much every month until by December 1983Â 2003 it was a million pounds a month. A massive figure in those days. In January 1984Â 2004 sales collapsed and we were initially at a loss as to what had happened. We employed a lot of young people on the government Youth Opportunity Programme, which kept us in touch with our customer base. They pretty soon told us that nobody was buying games anymore. Tape to tape copying had been discovered and stealing games was a lot cheaper than buying them.
We reacted by sending a letter to all the magazines explaining the damage this would do to the industry. Some magazines published the letter in full and some took a stronger line in not carrying adverts related to piracy. But overall their reaction was pretty muted. Which is surprising really because they relied on advertising revenue from the game publishers for income. Game piracy ended up hitting them too with one magazine publisher, Newsfield in Ludlow, eventually going out of business.
Our next tactic was to reduce our prices. To become cheap enough that customers wouldn't want to copy because they could have the real thing at a low price. This tactic would have worked and eventually did with budget software pretty much taking over the 8 bit cassette game market. However we were ahead of our time and the retailers and trade threw a complete and utter fit at our price reduction. Mostly they said they wouldn't buy our games off us anymore at the lower pricepoint. We were forced to keep prices up.
Because the games were being professionally as well home copied we started printing our inlay cards using a metallic fifth colour. This made it much more difficult to reproduce counterfeit inlay cards.
So next we came up with the idea of a hardware add on or dongle to plug into the game computer without which the game would not run. Initially we looked at putting the Z80 maths co-processor in the dongle which would allow our programmers to write more powerful code. But in the end we settled for putting a ROM in which would allow us to write a much bigger game. Combined with several development breakthroughs we had made this would have allowed us to make some very special games. The megames, Psyclapse and Bandersnatch were born.
But is was not to be. Piracy knocked our income so badly that we could not afford to run the company. There was no money to pay the bills and we went out of business. All filmed by the BBC for their Commercial Breaks programme, which you can still see on YouTube.