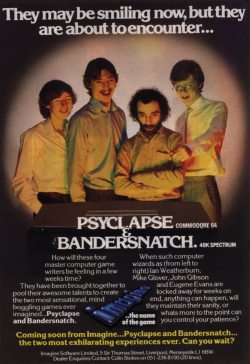 In 1983 at Imagine we realised that the company was being killed by piracy. We had plenty of anecdotal knowledge that nobody was buying legitimate product any more, they were just making tape to tape audio copies. And we could see that our sales were being badly hit, it was only the fact that we had geared ourselves up for export that kept us going.
So we looked at technical protection and we looked at making the instructions photocopier proof. But, nothing looked like working. So we came up with the idea of the megagames. Basically the idea was to have part of the game on cassette as normal plus another part of the game on a chip which plugged into the computer. You needed both bits for the game to work and whilst the tape was easy enough to copy the chip wasn't.
So it would beat piracy and force people into actually buying our work instead of stealing it. Another added advantage was that we could make the game much bigger and potentially better, hence we called them megagames. Which in turn gave us the advantage that we would have a great USP with games far better than our competitors could make, until they caught up with the technology.
In those days a game was usually written by one person. For the megagames we made teams of our best people with support from artists and sound people. David Lawson asked me to come up with names. Bandersnatch I just stole from the Lewis Carol poem The Jabberwocky . For the other game I decided on a two syllable word and sat down with a piece of paper and wrote down lots of cool and interesting first and second syllables. These I mixed and matched to come up with some new words. Psyclapse was the one I liked best and was also chosen by the others.
To market the games we decided that we wanted very powerful visual imagery. So we went to the famous fantasy artists Roger Dean and Chris Foss and gave them a game each. Not only to come up with the packaging image, but also a typeface for each game. For advertising we decided to start before the games were available in a series of wind up adverts. To make them really stand out in the media they were used in we decided to major on white space. All of this worked well and we whipped up a huge amount of interest.
Which was a pity as the process of making the games was going nowhere. So we had to extend the wind up campaign. And then the company went bust, killed largely by piracy. So they never happened.
But they had an influence. Other publishers worked at copy protection from other angles, dongles became a common way to protect commercial software. Art and imagery became more important in game marketing. Roger Dean went on to be involved in many more games. The technical teams took the ideas behind the megagames and used them elsewhere. The term megagame entered the english language.
Piracy is still a problem. It was endemic at the end of the original Playstation generation. Now the approach to keeping it under control is far more professional. ELSPA in the UK do a very good job. Unfortunately the legal system still does not treat IP theft the same as it treats the theft of physical objects. Which is wrong as they are both the result of man's labour. The solution to the 8 bit tape piracy that Imagine had suffered turned out to be budget games. At £1.99 they weren't worth copying.
So a little piece of gaming history. Comments, as ever, are more than welcome.