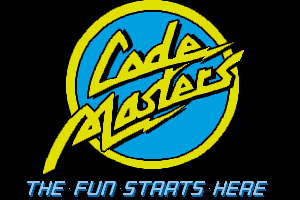 Next week is Codemasters season here at Bruceongames. A series of articles look at some of the product disasters that cost the company fortunes and which, ultimately, led to it being owned by venture capitalists.
Codemasters has a unique place in the history of the gaming industry. Surviving 20 years as a family company through multiple platform transitions and economic cycles to become a business that innovated and published some outstanding entertainment.
I first joined in 1985, just after the start when they were in a small industrial unit in Banbury. The total workforce was Jim, David, Richard and Abigail Darling, Ann Pinkham on sales and me. This grew to a $100 million a year company with 400 employees and offices around the world. An incredible achievement.
In the beginning Codemasters published budget (£1.99) games on cassette for 8 bit home computers. We succeeded in getting in excess of a 27% total market share in the first year of trading, the foundation that all future success was built on. Then came the Amiga and ST. Then self manufactured console cartridges and the Game Genie. Before settling down to become a mainstream publisher.
Codemasters was built on a foundation of exceptional people. The entry IQ test ensured that you never had to deal with thickies (at least in development) and created an espirit de corps of like minded people achieving great things. There was never a lot of money thrown around (Jim Darling was far too good a businessman for that). So teams tended to be small, using their brains to come up with clever and elegant solutions. Some of the best product was when John Hemingway was development director and I think he did a fantastic job in the difficult balance between budget and creativity. Product wise it was largely downhill after he left, as the declining review scores (and chart successes)Â showed.
Very many people in the game industry throughout the world owe their careers to Codemasters. Certainly for a very long time having Codemasters in your CV opened a lot of doors. And with years of graduate recruitment and a willingness to promote people out of QA it was a great industry first stepping stone. At it's peak Codemasters had a very low staff turnover, going to work anywhere else represented a step down.
But Codemasters is no longer a family company. This series of articles looks at some of the product disasters that made this inevitable. Mistakes that cost tens of millions of pounds in wasted money and lost opportunity. There were other disasters too, in employing the wrong people in senior positions and in setting up whole un-needed departments on the development side that were just ego trips. To go into these would involve apportioning blame. And though I, obviously, know where much of that lies, it is not something for here and now.