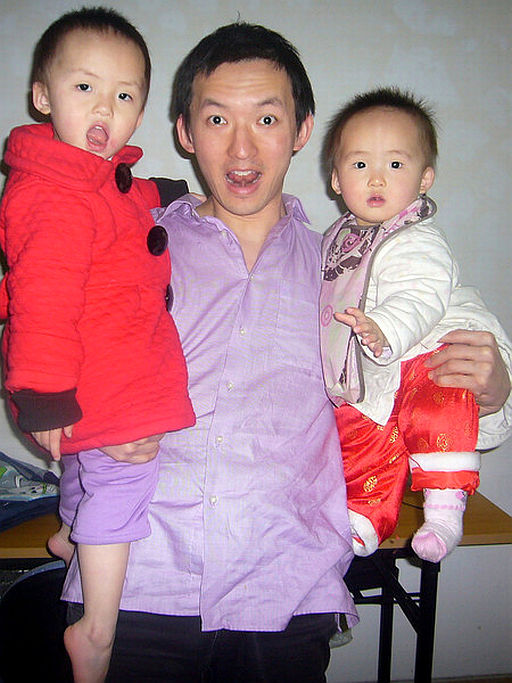 Eric Lam Recounts 19 March 2010 China Time
Hi Bruceongames.com and readers,
This is Eric Lam writing. I specifically ask Bruce to let me write this piece of blog. Because I deem this action to be most beneficial for my own personal sake. I'd start by presenting a piece of 2-page statement that I wrote and handed over to the two Chinese policemen who visit my home yesterday. It was written in Chinese and I translated it in English. (I don't have a scanner so I'd just type it out for now.)
Another note is that I verbally got the policemen's consent to recount the things that happened yesterday to Bruce. However, it's my own decision to write this blog on my own and to avoid any biased view from Bruce.
The way I got the policemen's consent is by saying:
Lam: 我会将今天发生的事情,马上就告诉 Bruceï¼Œå› ä¸ºéƒ½æ˜¯äº‹å®žå'ç"Ÿåœ¨æˆ'身上çš"ã€' (I'd tell everything that happened today to Bruce since that's what happened.)
Policeman A: ä½ å¯ä»¥è¿™æ ·åš. (You can do that.)
Policeman B: è¿™ä¸ªæ˜¯ä½ çš"自ç"±. (You have the freedom [to do so].)
Statement presented to the policemen are as follows:
æ ‡é¢˜: 声明书
æœ¬äººæž—å·åœ¨æ­¤å£°æ˜Žå¹¶æ— ä¸»åŠ¨åœ°ä»¥ä»»ä½•æ–¹ 法将本人拍摄之私人和公司照片通过任何直接或间接手段/方法给英国人blogger Bruce.
本人见到了 Bruce blog 上的林川的照片之后,才联络上的。
æ›¾ç»è°ˆè®ºå†…å®¹åŒ…å«ä»¥ä¸‹å‡ ç'¹ï¼š
1. Evony 是否有木马?
2. Evony 是否有洗黑钱?
3. Evony LLC 公司是否有多过十个人工作。
本人林川的回应如下,对 Bruce 声明过的:
1. æŠ€æœ¯ä¸Šä¸å¯ä»¥ï¼Œå› ä¸º Flash 有限能力;
2. 是否有洗é»'é'±ï¼Œæœ¬äººæ— 能力回åº"ï¼›
3. 游戏本身不可能å°'过十个人搞å'Œç®¡ç†ï¼›ä½†æ˜¯ï¼Œå› 为林川早已不在公司工作;Evony LLC 是林川离职之后才有的,所以本人林 川不知道具体情况。
林川在和 Bruce 联络上之后的目的,是未了请 Bruce 把林川是 Evony 的其中一个 Boss çš"说法æ"¹æ­£ï¼Œå› 为林川不是 Boss。Bruce 最后相信了林川的话,吧林川的在 Blog 上的说法改了,说是 Manager ( 经理)。
林川答应用往常对此类问题的态度,继续对不产生好处的事情不会做,不会和非执法机构的人交流此事。
林川本人保证上述声明会在未来履行。
19/03/2010
林川 (ç›–æ‰‹æŒ‡ç« )
Statement presented to the policemen in English translation are as follows:
Title: Statement
I, Eric Lam, didn't initiate any contact with UK blogger Bruce to hand him my personal photos in any direct or indirect way.
I, Eric Lam, saw Bruce's blog with my pictures, and then I contacted Bruce.
We talked about the following things [Bruce asked me the following questions]:
1. Does Evony has trojan?
2. Is Evony money laundering?
3. Does Evony LLC has more than 10 workers?
My responses to the questions above were:
1. Technically impossible. Flash has its limitation.
2. I am incapable of answering that. [Meaning I didn't know and I would have had no way of knowing.]
3. There's no way the game can operate with less than 10 persons. [personal opinion] But I am incapable of knowing since I left the company way before Evony LLC was heard. [fact] And I have no way of knowing how the company's structured. [fact]
Lam initiated the contact after seeing his own personal photos were published on Bruce's blog. The purpose of the contact was to correct Bruce's incorrect statement about Lam being the boss of Evony. I was not the boss. I was [one of] the manager[s] in the company. Bruce changed it agreeably after believing what I said to him.
I agreed to behave as I have always been acting, that is, not to do anything unbeneficial to myself, and not to communicate anything of relating to Evony to anyone else other than law enforcement agencies [with exception of this since I got their consent to recount what happened on 19th March 2010 to Bruce].
Eric Lam promises to honor the above statement in the future.
19/03/2010
Eric Lam (signed and finger printed)
Recounting what happened on 19th March 2010 are as follows:
I write in my first person point of view and try my best to be as objective as possible. I present only the facts and also my personal feelings without passing judgments to the others.
On Friday 19th March 2010, around 11am, my home's door bell rang. I just got up from my bed because I worked late into the night the day before. The hallway was dark because the light was out. I couldn't see who's who through the door viewer. One of the men asked for Eric Lam.
I opened the inner wooden door try to get a clearer view through the outer steel gate which is covered in metal mosquitos' fence. And the men asked for Eric Lam again. At one time, I thought I saw a familiar face who I thought was my former employer's personal driver at the far back. I said to him: "Hey. Do I know you at the back?" But he moved away from my sight immediately, so I still couldn't see who's who so I decided to shut the door.
I panicked. (Due to a few reasons which I'd prefer not to disclose for my own benefit.)
I looked and I knew that my wife and two daughters were out. I instinctively thought that they might be in danger so I looked everywhere for a phone to call them. But I just couldn't found my phone due to my dizziness in the morning.
I heard the men outside claiming that they're from the Qingdao [a city in Shandong province] police force. I guess I knew by then that that has something to do with one of the three things that have to do with my former employer. But first, I must first find out if they're true policemen since there has been quite a few incidences of fake polices entering the house in the news.
While I was still looking for my phone to call 911 or someone to verify, I heard my wife and kids' voice at door.
I wasn't sure what to do but I acted on instinct to open door and try to let them in first.
I opened the door. Three men, my wife, my 2-year old and 1 year old daughters were at door.
I dragged my one year old daughter's cart in first, and then trying to drag the other two in.
There was no time to explain to them what's on my mind. I thought to myself.
I tried to shut the door right after but two men started yelling and pull my arms. I told them that I have to find out if they're real police or not first but one of them stuck his feet in the outer door and slipped in the doorway and said that he'd prefer the door being open that way. I didn't think that was a good sign at all so I acted on instinct again and I forcefully pushed him away from the door and try to close the outer gate again. But two of them came forth together with one keeping the door open while the other dragging my arm preventing me from having further movement.
My two kids seemed to have sensed hostility and danger and started crying seeing what they're seeing while my wife yelling at them saying if you're true policemen why were you consider less about the safety of the children while having a fight here at door. One of the policemen replied in Chinese: "å°±æ˜¯å†²ç€è¿™æ ·æ¥çš",怎么啦!" (Literally, "We came here for this. What then!" My wife's personal understanding of what he said is that they're here to make a scene at my home just so that the children can see it all.)
During the pulling and pushing, my lower end of my right hand sleeve was torn off.
And while I was prevented from further movement, I held them back from entering. I shouted to my wife to call the police and to call 911 (but in fact the Chinese police emergency phone number was 110 so I guess no one could have understood what I meant by saying to call 911).
When they saw my wife picked up the phone and started calling, they started to loose their grip on me and move away from the door. They said it's better this way and let's wait till the local police arrive. I closed the doors. They waited outside the doorway.
A uniformed police and a security guard of my apartment complex arrived. I recognized the security guard so I let them all in.
First, I had to clear my residence permit registration formalities with the local policeman (ID025242 with driver batch A3546). For I'm a foreign citizen, I was obligated to report to the local police station where I lived with the apartment owner's IDs. However, my landlord was a busy man so he hadn't been available for running the errands with me.
Once that's cleared, 025242 calls up his superior for the Qingdao policemen's clearance to conduct their business here. They are, after all, cleared of conducting investigation here. 025242 and I asked for their authorized investigation paperwork and they couldn't provide any. But we believed they're true policemen nonetheless.
Because I was in such an emotional state, I asked for a few hours to prepare myself before conducting any further communication. Both 025242 and the two policemen suggested me otherwise. They wanted me right away. I didn't felt alright about that. If that was not an arrest, what right do they have to ask for my immediate assistance? I asked them what's that all about? What's the purpose of the investigation? If not allowed to tell me, I asked if they could at least tell me the nature of the investigation. One of the Qingdao police waved a heavy stake of paper wrapped in transparent plastic holder claiming that's what he's about to talk to me.
I asked him if he can show me that. He said that I'd know when I talked to them. He held it up high and claimed that it contained important evidence that's related to me. I asked him if that's related to me, why I couldn't see them. Or couldn't he tell me what that is all about?
They continued to refuse my request for freshening up (as I was just out of bed) and my request for preliminary information with regard to their investigation. The back and forth dialogue, which was going nowhere, lasted a few minutes.
But I stood my ground for asking for a few hours before conducting the interview and 025242 went outside again and assumingly talked to his superior again for advice. He came back and talked to the other policemen about me and they told me that we could all meet later. I promised them that I won't take long and I'd meet them at the local police station to talk. It's just around the corner of my apartment block.
Once I saw them out and regained my composure. I made calls to Canadian Consulate General and Hong Kong Economic and Trade Office in Guangdong. They were extremely helpful. Their representatives provided extensive legal advises and promised me that they have legal counsel standing by to help me out if in need. They can help me deal with the law enforcement in China on behalf of me. They advise me that I have the right to know the preliminary of the investigation before responding to anything. With my right told, I conjured up my courage to make a call to the local police station.
Unfortunately, the head of the local police office was out to lunch. The lady at the police office asked me to call back at a quarter to three.
I didn't want to get the Qingdao policemen to wait for too long. But I failed to get the Qingdao policemen's phone number before they left. I went downstairs to see if they're still around my apartment complex. But instead, downstairs, I saw the driver of my former employer. It was really him that I had seen back there. I thought to myself.
I waved at him who was sitting outside my apartment building's gate and asked him to help me call the Qingdao policemen back.
A moment later, I saw them coming back with a security guard of my former employer. The security guard was a former military soldier in Northern China, as I was told once by Consultant Ma when I was still with the company back in March 2009. "Oh, we meet again." I smiled at him and thought to myself. (He's a friendly enough fellow who paid for my drink and snacks during the rest of the long hours of interview by the policemen. He also escorted me to the washroom and waited outside whenever I was out of the sight of the policemen. He's a very responsible young man.)
I gather the two policemen around and they dismissed the driver and the security guards. I told them whom I'd called and what right I had in China. I insisted and demanded to knew the preliminary first.
They didn't refuse though failed to acknowledge but I thought I planned to make them feel at ease first. I told them that there were three things that was relating to my former employer. They're issue A, B, and C. (I will omit A and B intentionally for my own benefit and very probably for my former employer's benefit as well.)
I tried to show my good will by telling the Qingdao policemen the following.
I watched police movies a lot and once wanted to be a police myself and even applied to become a Commissioner of Police in Hongkong passing two rounds of interview before I decided to come back to China for my career and to explore business opportunity. I hoped they could understand my respect for their line of duty, my willingness to cooperate and I was sure they weren't intended to make a scene back there. (I thought to myself that it was just unprofessional police academy training, at most. The ugly scene could have been prevented simply by bringing my apartment complex security guard along when they rang my door bell. I could have saved my shirt, to say the least, if not frightened my wife, kids, and the neighbor. Right. Beside writing this piece tonight, I had spent my day talking to the neighbors about, oddly, my financial stability. All of them started to gossip about this already thinking that it was some mafia loan shark who wanted to get a piece of me for they could hardly believe those were the act of policemen. But I told them it was just misunderstanding. Apparently, the last thing I wanted to do is to express my own fear and alarm them further.)
For issue A: I thought it was over and I doubt if it's anything to do with it. But I'm preparing to get it over with nonetheless because I didn't do anything wrong. It was merely an unfortunately misunderstanding if anything. (Sorry readers for being cryptic. But just bear with me till issue C.)
For issue B: I thought I had an agreement indirectly with someone through a personal assistant that I shouldn't be talking to them anymore as if "I've never known them." (Sorry again for being cryptic here. It's just for my own good.)
For issue C: Apparently, I couldn't pretend that I didn't know anything about Bruce's blog. So if that's what it was all about, I'm more than willing to talk about it to the best of my knowledge. The only reason preventing me from contacting the right persons to talk about issue C was due to issue B's promise. So, I'm glad to talk to a third party, especially law enforcement.
I played my part to be more than open to clear the air and the police signaled that what he's holding in his hand was all about Bruce's blog.
I signed with relieve and divulged what I knew about Bruce and the blog. Apart from the statement that I wrote above, which was all true and was not forced upon to write (if you readers have speculated). I told them a lot more about what had happened in details so that they could feel surer about my statement being true. We sat in the apartment complex playground for a long time and they listen and sometimes barge in with dissatisfaction of what I said while they couldn't be clear of what they wanted to ask for obvious reasons: that's how policemen were trained to talk to suspects. They cannot let the suspect know what they know or don't know while they want to know as much and ask as many relevant questions as they could. So the back and forth dialogue went longer than it could have been due to the nature of the conversation. Eventually, after much misunderstanding and even yelling at times due to frustration on both sides, they said they're temporarily satisfied with my side of the story and went over to my apartment complex's security room to get a written statements.
The official written statement contains more information than the above statement. The official statement was supposedly to be read by the police authority only. They requested me to write the above statement on my own. I thought it must be for someone else's eyes then. To whom I have no way of knowing who would eventually read it. But I'd hope it can reach the right person. But just in case it couldn't, I'm hoping by posting here, the content of my hand written statement can have a chance to meet his/her eyes.
I felt that I was one the key suspects of providing information to Bruce. I felt that there was no way of denying the facts that the photos were mine. So I was very clear about how all it went. What I said to the policemen went most unrecorded due to technicality, which I thought the policemen were not internet savvy enough to understand what I told them but were too shy to admit.
I knew Bruce's attack on Evony all alone. But it was really none of my business because I left the company for a long time. There's hundreds and thousands of Eric Lam out there and for the obvious speculative nature of those claims were, I didn't think it was worth my time to act upon it. Besides, the rumors out there got many of my facts wrong. (For example, I corrected Bruce yesterday, again, that I wasn't living in Canada. I've been living mostly in China since 2005.) And most importantly of all, issue B is at stake and I was obligated on two ends not to talk about this (sorry for being cryptic). But I became acutely aware of Bruce's blog once my personal photos were up. After two to three blogs were out containing my photos, I decided to reach out to Bruce to correct one perhaps minute to many others but fairly substantial claims against me.
I was not the owner of Evony.
That's it.
It's affecting my life and work on many ends so I had to stopped it.
I would have been honored and glad if I was really one of the owners simply because it was the first game that's been created by Chinese and gone out to make it big in the English-speaking audience market. But unfortunately, I wasn't the owner. And it was really getting on my nerve from too many ends. I had to stop the source from continuing spread the untrue info that's affecting my life.
I still don't know how Bruce got a hold of my photos and I didn't bother to ask neither because they would have been publicly available online as they were sent to many of my co-workers in the company. I was THE photographer and I advocated company life on my photo blog. Hundreds and hundreds of workers come-and-gone could have tipped off Bruce about the whereabouts of the photos. Or it could simply been have Bruce's own might in power searching through Google.
If you Google eric lam <a rather popular online photo gallery>, my photo gallery result comes up first. (That's the part I thought the policemen failed to grasp what I said.)
I wouldn't have trusted Bruce even he told me the way he got the photos so I didn't bother to ask. It was simply my mistake to have not locked that part of the photo gallery sooner. I thought Bruce's blog writing was AdSense ad driven. I thought he was driven by greed for readership and AdSense income.
And you bet. I was a greedy person and so I assumed everyone else's so.
I did everything for the benefit of profiting for myself. I have stopped donating and volunteering for a long time. And I have stopped doing things that's unbeneficial to my ends for a long time. And I've stopped doing all random act of kindness that I used to do except giving a few dollars to the wondering singers and performers on the streets.
The last thing I wanted to do is to provide petty information to Bruce's blog for fighting so-called justice in his eyes.
I asked Bruce how much he got for the AdSense, he said it's petty money that could hardly cover his monthly utility bill. So I thought to myself what an idealistic and unworldly man he was, fighting for justice of the public with flimsy information. (Of course, I didn't tell him that in his face since I care less about others' dealing as long as my life's not at stake.)
Besides, half of my life was in the east and other half been in the west. I think it's just a joke what Bruce was writing about. It wouldn't have been so much an issue in China anyway even if they're true.
Now, I know you're happy now knowing the Eric Lam guy is as bad as you might have imagined. But I really don't care as long as you're not in my life.
The truth is: my neighbors and the Shandong policemen are in my life. Someone will continue to exist in my life no matter what, simply because he/she thought I knew too much. They're all part of my life. They're as much as my wife and kids are in my life.
So **** you, Bruce, and all the other rumors and info tippers (if you're even really reading this at all…), as well as you, supporters and other commenters/readers of Bruce's blog.
You don't care what's happening to me as much as I don't care half about what's happening to you. So now you know what's happening to me and please show yourself and at least stand up like a man like Bruce. Show yourselves so that I don't become the fall guy who got his sleeve torn off right after getting out of my bed, and so that I don't become the man who forever feeling regretful of not able to protect my baby girls enough from imprinting their fragile hearts with the ugly scene.
Last but not least, **** myself for not being able to add a password on the photo gallery sooner. Or better yet, might as well ****ed my photography hobby.
For the sake of me, I specifically ask Bruce to pull off the latest blog about the things that happened on 19th that god knows who tipped him off. I decided to write this accord on my own and let you all know that I'm a real person and I'm in real trouble. So spare me your endless analysis of the latest evony gossips and freedom of speech point of view. Get a life and even play some evony for god sake.
I will continue to fight for my own peace if you anyone out there decide that you have more to say to me, I suggest you to email me at eric@clickbankcsv.com where my own business endeavor is undergoing besides consulting for a few game companies on a part-time basis.
Or better yet, subscribe to my service at ClickBank Products Data CSV at http://www.clickbankcsv.com . I'd always be glad to chat with my customers. My men at ClickbankCSV will greet you with nice things to say. Just leave them your phone number, and contact methods, and I'd get back to you right away during my waking hours.
Eric Lam