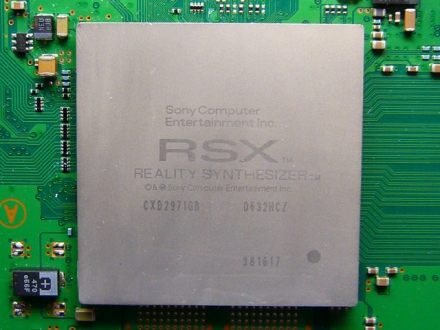 GTA IV, quite famously, was delayed from being a 2007 release to being a 2008 release because of problems Rockstar were having with the Playstation 3 version of the game. And now Codemasters admit that whilst the Microsoft Xbox 360 version of Grid runs at a solid 30 fps the Playstation 3 version doesn't. These are just two of the latest of a long stream of disappointments with the comparative performance of the PS3. What is happening here?
The enormous power of a modern game console comes from two processors working together. The CPU (Central Processing Unit) and the GPU (Graphics Processing Unit). Console manufacturers have traditionally bought in CPUs from manufacturers such as Intel and IBM whilst GPUs have come from the likes of nVidia and ATI.
For the PS3 Sony wanted to have a technology advantage so they developed, in conjunction with Toshiba and IBM, the Cell processor. A clean sheet design with many innovations this took $400 million and four years to develop. The intention was to use two of these in the PS3, one as CPU and one as GPU. However at the last minute Sony realised that the Cell GPU wasn't up to the job so they went to nVidia and bought their 7800GTX GPU. This gave them a number of disadvantages:
It wasn't designed or optimised as a console GPU. It was designed and optimised as a PC GPU.
The whole architecture of the console was compromised by the last minute change.
The 7800GTX has less raw processing power than the Microsoft Xbox 360 GPU.
Microsoft had their fingers burnt by not owning the chips in the original Xbox, so for the 360 they decided that they wanted to own the rights to both processors. They sat down and co designed their GPU with ATI. By doing this they were able to optimise it's capabilities for video game playing and also they were able to design it into the elegant system architecture of the Xbox 360. They also gave it a lot of raw power.
So although the Platstation 3 has a more powerful CPU than the Xbox 360 it seems to be less powerful as a gaming machine. And real world results with real games have so far proved this. As Richard Huddy of ATI said in an Edge magazine interview: "I think Xbox 360 technology is likely to outperform PlayStation 3 technology by a pretty healthy margin in the long run." It looks like the GPU is holding the PS3 back.