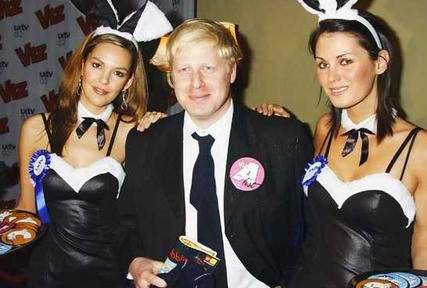 You will find this stupid article on Boris Johnson's own website. And, oh dear, how ignorant and uninformed he is. This is just another one of those typical articles you get when someone doesn't have the faintest idea what they are talking about and just spouts their prejudices. His premise is that "computer games rot the brain" when it has been proven that the opposite is true. And now that he is in a position of political power this is important.
His main contention is that children prefer games to books and that this is bad: "surveys increasingly show that children (especially boys) regard reading as a chore, something that needs to be accomplished for the sake of passing tests, not as a joy in itself. It is a disaster, and I refuse to believe that these hypnotic little machines are innocent." What he does not seem to realise is that gaming and reading are similar activities. They are popular culture. But games are better because they are interactive, non linear and social. He shows the prejudice of someone who is too old to grasp that thing have changed and that for today's generation there is a better form of culture than the one he had.
His graphic description "while in some other room the nippers are bleeping and zapping in speechless rapture, their passive faces washed in explosions and gore. They sit for so long that their souls seem to have been sucked down the cathode ray tube. They become like blinking lizards, motionless, absorbed, only the twitching of their hands showing they are still conscious." further shows his misunderstanding. He should really compare this with someone engrossed in a book, oblivious to the world. The difference being that the game player is at least interacting and is probably engaged socially with another person or people whilst they play. Reading a book is massively more anti social than gaming.
One point where is is partially right is: " So I say now: stop just lying there in your post-Christmas state of crapulous indifference. Get up off the sofa. Can the DVD of Desperate Housewives, and go to where your children are sitting in auto-lobotomy in front of the console. Summon up all your strength, all your courage. Steel yourself for the screams and yank out that plug." Here he implies that parents should take responsibility for their children's upbringing. But how he equates this with depriving them of video gaming is totally beyond me.
It really looks like what Boris needs is a Nintendo DS and a copy of Brain Training.